Chincoteague Ponies at Rocking H Ranch
The Ponies
How we got into breeding Chincoteagues
I have had horses and ponies since I was 10 years old. I have been breeding and showing for over 35 years. I started out with grade horses and ponies and then had quarter horses for a while....Paints and half arab pintos took over from there....but when I started my own family I decided I wanted to switch to breeding ponies...
In the year 2000 I discovered that a registry for Chincoteague ponies had been started in 1994 and since I was looking for a breed of registered ponies to get into breeding, I decided to look for some registered Chincoteague ponies. Since there are only about 1000 registered Chincoteague ponies in the country this task proved difficult.
I found 2 bred mares and a stallion in Iowa...the ponies were originally purchased in the 1997 and 1998 pony swim and auctions. In the spring of 2002 our first Chincoteague foals were born here...both colts...a solid black and a palomino pinto.
Over the next 3 years I purchased more mares and a couple more stallions.
I now have over 20 Registered Chincoteague Ponies here at the farm
We have several foals and a few older ponies for sale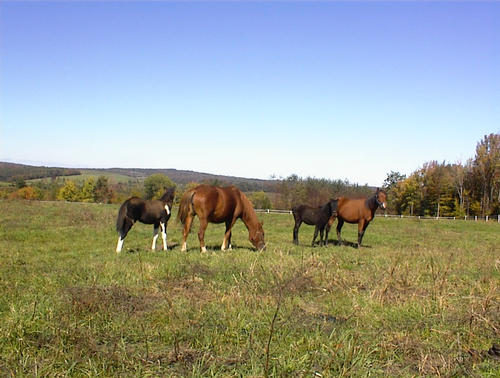 Our Family
I bought the farm we have now in 1993. I met my husband in 1995...we got married in 2000 and have 2 beautiful children Travis (born in 2001) and Taylor (born in 2003).
My E-mail
Our Paints