favorite links
Chincoteague Ponies
If you are really interested in learning more about the Chincoteague ponies, their habitat, the pony penning event, or preserving ecology, there is no substitute for visiting Chincoteague in July during the annual event or even at another time of the year. Should you want written information, there are many books and web sites that can provide you with information on the area and the ponies. In any case, we highly recommend that you at least pick up a copy of Marguerite Henry's Misty of Chincoteague--it is a must read story for children and adults alike.

BOOKS
Misty of Chincoteague
Written by Marguerite Henry
This is a must read book about one of the most famous Ponies from the island of Chincoteague.

Stormy, Misty's Foal
Written by Marguerite Henry
This is the sequel to Misty of Chincoteague.

Sea Star: Orphan of Chincoteague
Written by Marguerite Henry
One more in the series of wonderful Marguerite Henry books on Chincoteague Ponies.

Chincoteague Pony Tales
Written by Bernie Pleasants
A collection of short stores written by the auctioneer of the annual Pony Auction. .

WEB SITES

Part of the Chincoteague Chamber of Commerce
The place to go to learn all about the Annual Firemen's Carnival Pony Swim & Auction.
www.chincoteaguechamber.com/pony-events/ev-pony.html

Chincoteague Chamber of Commerce
www.chincoteaguechamber.com

The Chincoteague Pony Association
This is the official registry for Chincoteague ponies.
www.chincoteaguechamber.com/map-assn.html

Chincoteague Island Virginia
Here you can find all kinds of information on Chincoteague Island including: area maps, events, and local weather forecasts. It is also a good place to visit to learn more about local restaurants, lodging, and night life.
www.chincoteague.com/

Misty of Chincoteague Foundation, Inc.
The site of a foundation with a mission to purchase and, thereby preserve, as much as possible of the original open land on Chincoteague Island where the Beebe family raised Misty and Stormy, the real ponies made legendary by Marguerite Henry's award winning children's books.
www.mistyofchincoteague.org
Chincoteague Pony Links
The registry for purebred Chincoteague ponies based in Chincoteague, VA.
Located on Chincoteague Island, the Leonard family is one of the oldest breeders of Chincoteague Ponies.
Chincoteague Pony Farm is owned and operated by Donald Leonard, over 50 years experience with Chincoteague Ponies.
Located on Chincoteague Island. They are dedicated to showcasing the Chincoeague Pony. They have several Misty Descendents.
A great page for information on Misty and all of her descendents
Another resource for more information on the ponies
The photo below was taken of me and my mother on our family vacation to Chincoteague Island in 1973.
The Pony is Cloudy ..a Misty grandson..he appeared as an ambassodor for the Chincoteague breed and a representative of the Misty Family...
Cloudy did tricks and loved green livesavers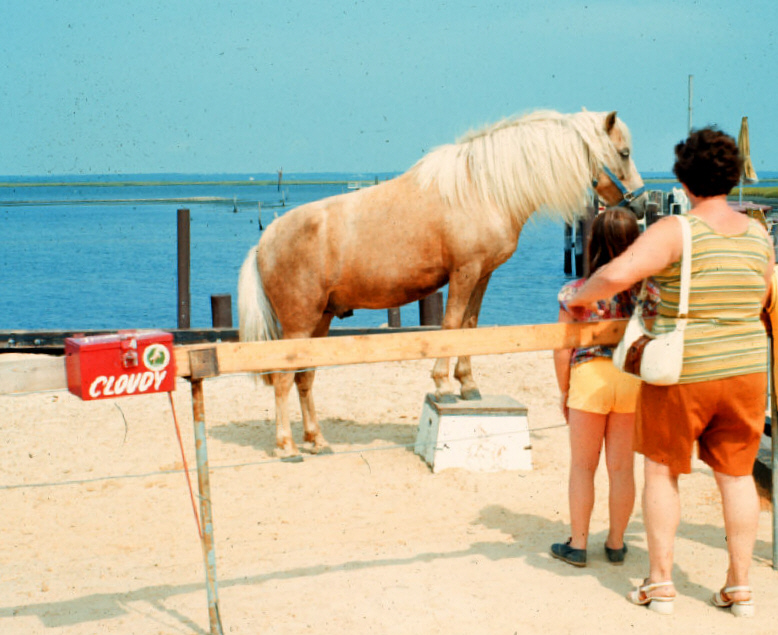 More Chincoteague Pony Links
A new Association and Directory for Chincoteague Pony Breeders from around the country
Held the last Wednesday and Thursday in July every year, this annual event is attended by 30,000 to 50,000 people every year.
The oldest Registry for Chincoteague Ponies
General information on the ponies and links to more...
There is a LOT of inormation On Chincoteague and Chincoteague Ponies online. Use any search engine like
www.google.com
and put in Chincoteague Pony for a search Criteria.